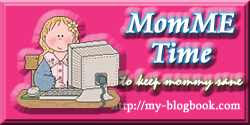 design by sis willa
Here's how to join:
1. Write a post about your ME TIME (alone time, time for yourself) that you had for the said week. If none, write about a me time that you're planning to have. Don't forget to include the badge in your post.
2. Submit your post URL here. Link is open Sunday 6 AM - Wednesday 11:59 AM (EST)

3. Visit the other participants.
The purpose of this meme is to make Mommies realize that
we also need time for ourselves
. And yes, whether we want to accept it or not, a
minute of brushing our teeth
is a precious me-time that we have to
recognize and be thankful for
.