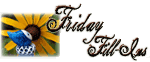 I didn't realize that it has been a week since I last updated my blog, but I will never miss my Friday Fill-Ins!


1. Sweet dreams for me tonight, I only had 4 hours of sleep last night because I watched a late show on TV.
2.
The new dress I bought looks like it was made
especially for me.
3. Silliness
is something that everyone should not outgrow
.
4.
My son wants a soldier costume
this Halloween.
5. Outstanding or not
I will always do the best I can in everything
.
6.
Chocolates, chocolates, chocolates
is what I want right now!
7. And as for the weekend, tonight I'm looking forward to
sleeping early
, tomorrow my plans include
cleaning the house and washing clothes
and Sunday, I want to
and I definitely will go to church
!