When I was in grade school, I attended a public school in a small town in Albay, Philippines. I moved on to a private school in the city during my high school years. I took up Applied Mathematics in the most prestigious school in the country, the University of the Philippines (sorry La Sallites and Ateneans, UP is the best :) ) in my college days.
I still see my grade school friends when I go home in the province once in a while. I seldom do that though because RJ has sports activities during summer break. When I went home August of 2009 for my Lola's (grandmother) wake, a friend visited me. Let's call her JJ. She went to my house with her fourth child and with a big belly.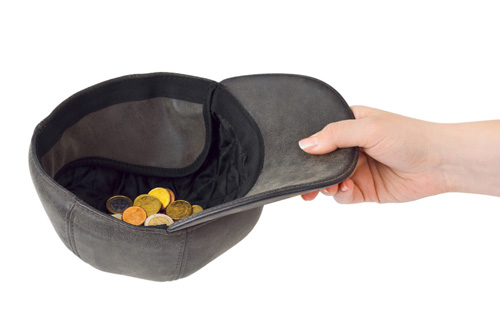 JJ: "My eldest, you're inaanak (godchild) is Grade 6 already."
Me: "My inaanak?" *confused* I visited you when you gave birth, but you didn't tell me I am the godmother. Of course I didn't say that, I didn't want to embarrass her.
JJ: "Everytime P comes home, he always give gifts and money to us. You know, we're very poor. Last christmas, when R was here, she also has pasalubong and gave me some money." P and R were our grade school friends.
Me: "So, how are you and your husband? How many kids do you have?"
JJ: "I am going to give birth to my fifth child soon. But we don't have money, I can't even afford to give birth in the health center. We don't even have rice for lunch today. My husband helps clean tombstones at the cemetery near our place."
Me: "Does RC live near your house? How is she?" RC is another grade school classmate. I wanted to change the subject because I don't want to be more depressed (we just had Lola's funeral day before).
JJ: "She works in the Middle East. She has a big house already."
Me: "Why don't you let your husband apply in an overseas job also?"
JJ: "We'd rather be together with our children."
Me saying to self: You'd rather see your kids go hungry that be separated from your husband for a few years.
We talked for an hour, she talking more about her poor, sorry life. I gave her rice and cakes for her kids. I also gave her some money but not without telling her, "Use that money to give birth in the health center/hospital. Stop getting pregnant also".
Fast forward to today. I received a text, "Manay this is JJ. How are you? I got your cellular phone number from R".
"Hi JJ, how are you?"
"I'm fine. I have a new baby.Your godchild is going to graduate from grade school this March. I want to ask for your help. I also asked help from R and she gave me your number. As you know, my family is poor."
Saying to self: If my godchild's tuition fee is only a thousand or two, I can help her if she really wants to continue high school. If and only if her grades in grade school are not failing and she won't quit until she finish schooling.
"How is my godchild? Is she going to continue high school? Does she have good grades?"
I got a reply from her asking for a cellular phone load.
Uh-oh, I got scared. Honestly! I am not kidding. I am not filthy rich to support a family of 7! She is not even ashamed to ask for money. Her husband is a big guy, not tall but big, he has the body to do hard labor to support his family.
Should I give her money again? My sister said that she might get used to asking money from me. What should I do?